Lord Gary Young's Last Joust?
Young Living's employees and families got together for a day filled with adventure and festivities at 2009's Lavender Days at Young Living's farm in Mona, Utah. After the popular and successful 5K Run Through the Lavender and a hearty breakfast, the visitors were treated to a jousting tournament.
A shocked audience gasped as Gary Young announced his official retirement from jousting. The award-winning and oldest competitive jouster in North America bid farewell to the sport he loved. With the tournament games apparently canceled and the audience growing restless, the Black Knight, played by CEO Doug Nelson, burst into the arena and called out for Gary to joust one more time to settle once and for all who was the best knight.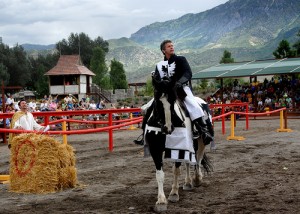 Lord Young stoically refused the challenge. However, determined in his malevolent goal, the Black Knight knew Lord Young's one weakness: his son. The Black Knight sent his henchmen to kidnap Lord Young's youngest child, Josef. Realizing what had taken place, Lady Mary Young was frantic and begged for the release of her boy. As the Black Knight dismissed her pleas, Lord Young realized that there was only one way to save his son: He would have to face the Black Knight for one final battle.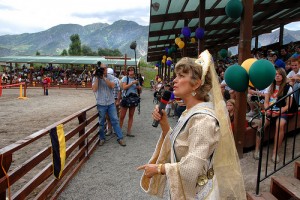 Soon the jousting commenced as the two men faced each other for the last time. Round after round lances shattered and armor was damaged. But as the knightly games commenced, it was clear that the Black Knight could only triumph through trickery and deceit. Sir Vladmir Nelson seemed to triumph over Lord Young, but it was all a sham as the Black Knight's squires indulged in all forms of deception. For this the Black Knight was disqualified and Lord Young was announced as victor.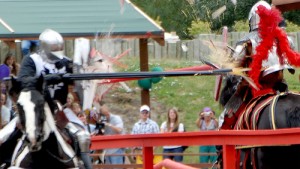 The Black Knight, however, refused to relinquish the child and Lord Young was forced to challenge him once again to a sword fight on horseback. Ever the champion, Lord Young delivered a final strike, felling his opponent and securing the lad at last.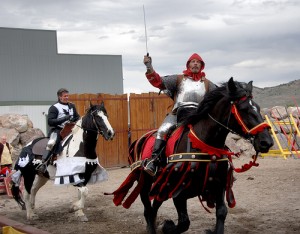 As Lord Young rode triumphantly with Josef in his arms, a herald appeared and unfurled a large banner in celebration of Lord Young's victory and his 60th birthday. It was then that all the lords and ladies in attendance joined in singing happy birthday to Gary and honored his victories and dedication to the sport and Young Living.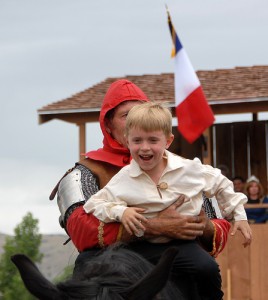 And while Lord Young assured the crowd that this was his final joust, the threat of the Black Knight still looms. The saga could continue at next year's Lavender Days!
Feel free to share! If you copy and paste whole posts to your member blog, please attribute and link back to the original post on dgaryyoung.com.