Legacy Gary Member Stories – Ecuador Adventures with Gary
Since Gary Young's passing, we have put a lot of thought into how to continue the D. Gary Young blog. We wanted to foster a stalwart commitment to Gary's legacy, so we asked members to think of a fond memory of their time working with him on projects, on travels, at one of the farms, or in another setting to share those memories with you.
Here's a memory from Pamela H.: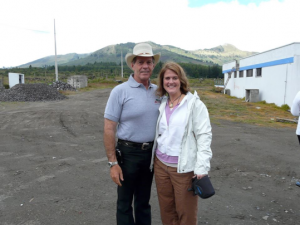 I was blessed to be on a two-week adventure—and I mean ADVENTURE—the first year Gary opened the Ecuador farm up to us as members to come and learn and explore. I knew then that we were special to be able to keep up with this man and understand what it takes to pioneer new land, new discoveries, and be world changers! Gary made us feel so safe on his adventures, but, as he always said, "If you are not living on the edge, you are taking up too much room!"
One of the oils that was new to me on this trip was Eucalyptus Blue. It helped protect us from all the critters in the brush.
Feel free to share! If you copy and paste whole posts to your member blog, please attribute and link back to the original post on dgaryyoung.com.