The One Gift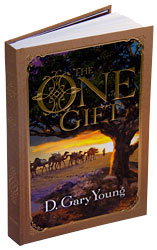 I am so pleased at how well my book, The One Gift, was received. I never dreamed we'd be headed to a second printing so quickly!
Writing historical fiction can be difficult, but it seems that the story I wrote has kept a few of you reading until the wee hours of the morning—even though I wove factual history into the storyline.
On one of my trips to Oman in 2009, I interviewed the world-renowned archaeologist Yuri Zarins. I asked him about the ancient canal that linked the River Nile in Egypt with the Red Sea. He seemed surprised that I knew about this canal. There's not much about the frankincense region that I haven't studied.
There is a kidnapping in my book and the lead character, Shutran, thinks fast about why the people were kidnapped and where to ambush them. "These pirates are after slaves to sell to the Pharaoh in Egypt . . . the pirates will take the slaves and a few horses and head to Aila to put them on a boat to go up the Red Sea, taking the canal over to the Nile, and sailing up to Luxor."
I was able to document that waterway existed anciently. A study by Carol A. Redmount, The Wadi Tumilat and the "Canal of the Pharaohs," was published in the Journal of Near Eastern Studies, and Alan B. Lloyd's "Necho and the Red Sea: Some Considerations" was published in the Journal of Egyptian Archaeology. The One Gift is a fictional tale of caravans but because it's based on historical fact, reading it will be like traveling back in time!
Feel free to share! If you copy and paste whole posts to your member blog, please attribute and link back to the original post on dgaryyoung.com.