The Timely High Five!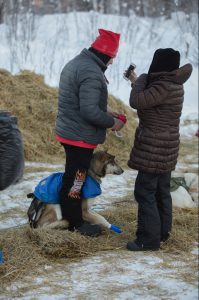 Now, you will have interruptions. So, I'm there; it was 17°F below that morning, and I was cold. I'd been on the trail for almost six days altogether, and I was tired. My bones were frozen, my bones were aching. My heart was doing things it shouldn't do. I was having a challenge keeping my head straight. Just then Mary showed up with a phone in her hand and said, "Honey, could you talk to these members?"
"What?! I've got to get the booties on my dogs. I've got a race I'm running, and you want me to stop and talk to members? Of course, I will." And I did. But I told her, "You hold the phone so I can keep putting booties on my dogs. Just walk with me and I will talk to them," and I did.
Here's another lesson. You're never too busy to give to somebody, because you don't know who's on the other end. You don't know what it will mean to them. Yes, it may be a sacrifice for you. This was very difficult in the situation I was in at that moment. I said to myself, "I've got a race to win; I don't have time to talk to some members." Yes, I do. And yes, I did! And I always will. You have time for your people!
Yes, it's cold, 25°F below zero. This could have been a reason to give up, a very, very big reason to give up. That morning, coming out of the last check station, headed for the finishing line, the temperature hit 27°F below zero.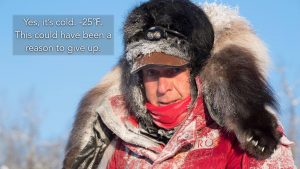 As I was coming to the finishing line, about 3 or 4 miles out, a gentleman I didn't even know was on the side of the trail. He just reached out and gave me a high five and said, "Gary, you can do it!" I don't know who he was. Wow! My heart just about went up in my throat. That one little thing just changed everything for me.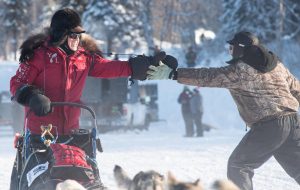 That's what you need to do to your people. Give them a high five, make them know you believe in them. Support them in their challenges in life, in their opportunities of being in Young Living and building a business. This was so powerful to me. We don't do it enough. But we can change that.
Feel free to share! If you copy and paste whole posts to your member blog, please attribute and link back to the original post on dgaryyoung.com.