When the Going Gets Tough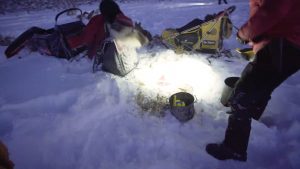 Here we are stopping one night and getting the fire going, so I could feed my dogs. Then I got my sleeping bag out, laid it down beside my sled and dogs, at 10°F below zero, and I took a 45-minute nap. Now why didn't I sleep longer? Because after 45 minutes, I was frozen! The cold woke me up and it was time to go again.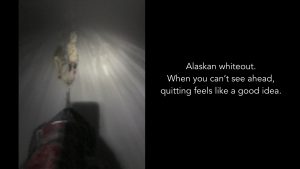 An Alaskan whiteout—when you can't see ahead, quitting feels like a good idea. There I was going across that one big lake—I don't remember the name of it; just a little way out of Willow—and fog settled in. A light wind was blowing that frozen, crystallized snow; and white was all I could see. I couldn't even clearly see my wheel dogs, which are my first two dogs—and I had 10 more ahead of them that I couldn't see. Then I heard Mary's voice, "Honey, you don't have to do this. There are other things you could be doing."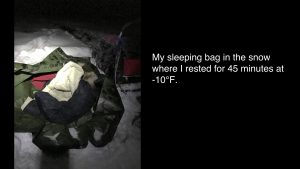 Folks, you're going to be in that space. You'll be saying to yourself, "Uh, no, I could go get a job at McDonald's, and I know there'd be a paycheck from there every two weeks." "No, I could get a job as a computer programmer; I could get a job as an attorney helping Matt." You could say and do all kinds of things that would convince you not to do it.
I heard those voices. I was into my second race, my fourth day with basically no sleep. I was frozen. I felt like a popsicle standing there riding with my dogs. I would get off at different times and run beside the sled until I felt my heart would just about give out. I needed to try to get the circulation going, so I could get warm enough because I thought I was going to freeze.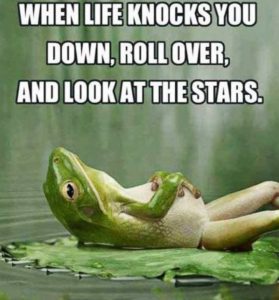 Feel free to share! If you copy and paste whole posts to your member blog, please attribute and link back to the original post on dgaryyoung.com.