Tips for Succeeding in the Young Living Business, "Real-World" Style
If you've been working to build a Young Living business for any length of time, you've probably encountered challenges along the way. Maybe you're not finding as many enrollees as you'd like or aren't getting people to classes. Gary suggested romancing the negative, in part.
Royal Crown Diamond members Annie Hauser, Erin Rodgers, Lindsey Gremont, and Joanne Kan have all been where you are, and on a 2019 Convention panel, they all shared stellar tips for overcoming challenges and succeeding in the Young Living business, "real-world" style. Whether you attended that panel and need a refresher or didn't and need some advice, you'll find wisdom in their words: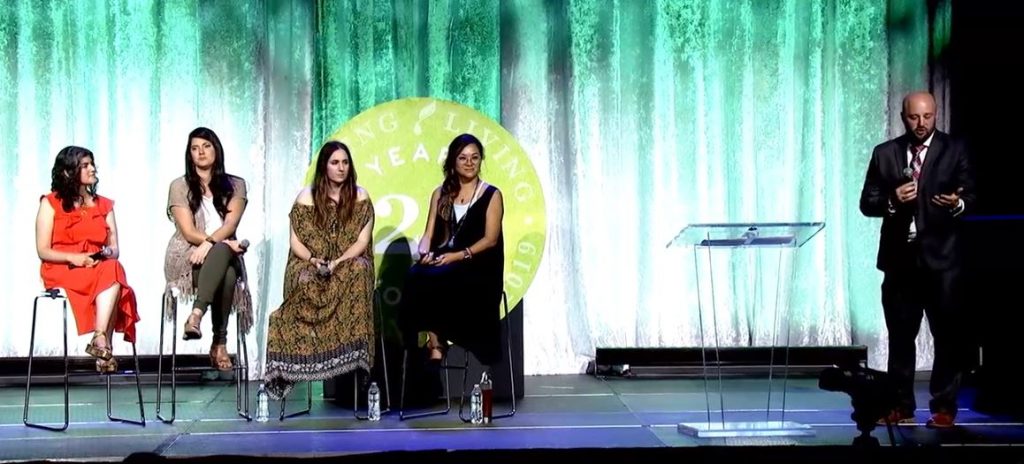 Tip #1: To get people to classes:
Get product-using people to bring their friends to classes:
Joanne, from Hong Kong, advised drumming up excitement among your existing product users and/or members. Then their friends will want to have what they have and will be more likely to come to a class with that user or member.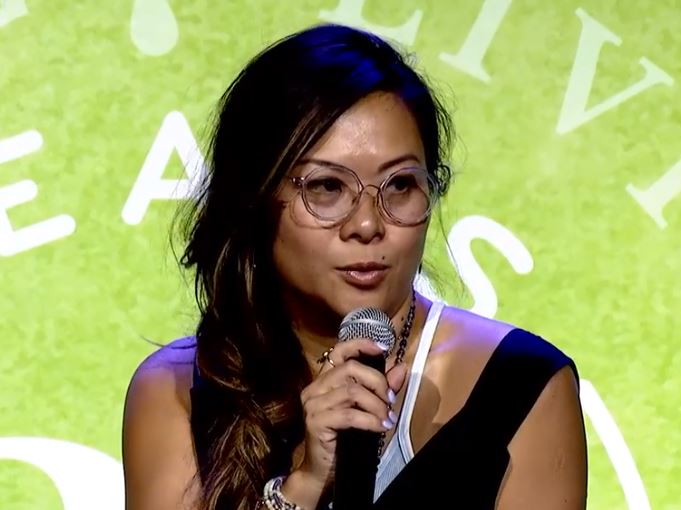 Be excited about the basics:
Lindsey, from Austin, Texas, said: "Take yourself back to that original excitement that you had in the very beginning. As you keep going in this business learning more and more, remember what you learned and were excited about in the very beginning. Don't overwhelm people with a lot of information. Be excited about the basics."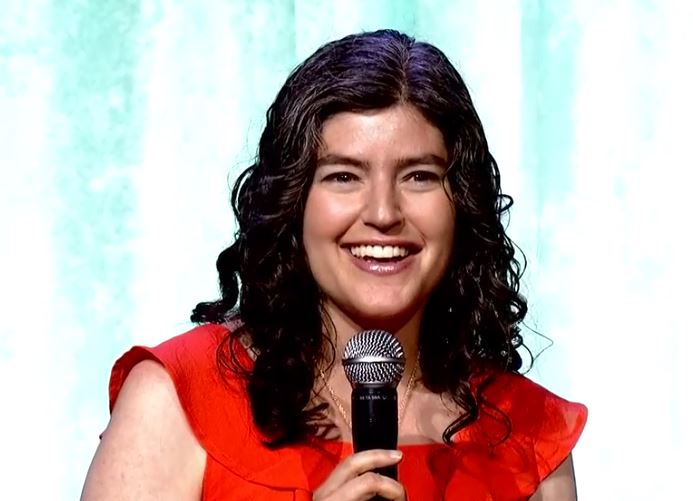 Tip #2: To convert product lovers into business builders:
Share about the business from the beginning . . . in a certain way:
Annie, who hails from Philadelphia, Pennsylvania, didn't call it "business." She called it a sharing opportunity. She included the link to the sign-up page in emails she sent to her new downlines and said, "Keep this link because now that you're using oils, somebody else is going to want to too. Here's the link you can send them. They can grab their kit and YL will hook you up with $50. It's pretty cool. Here's the Income Disclosure Statement. If you're ever interested in the opportunity, I'm happy to help you. Also, here's my favorite way to use Stress Away, and here's the link to our Facebook group. Make it really fun and sandwich it in there so that it's planting the seed."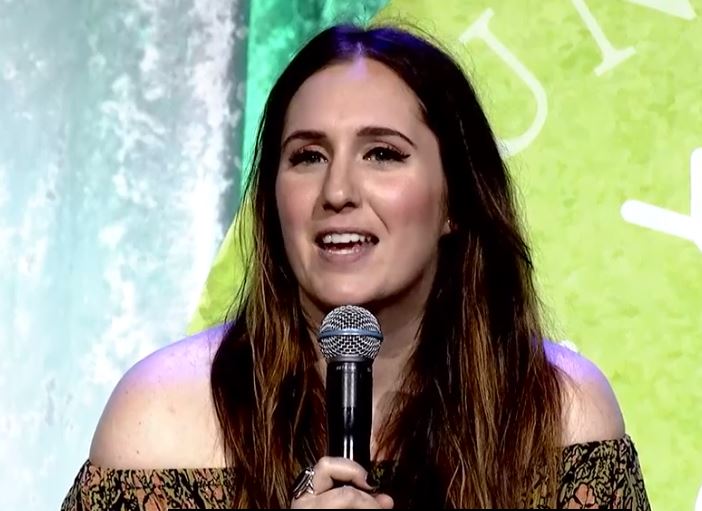 She also said it's all in the power of how you're talking to people. She would recommend certain oils corresponding to certain problems to her friends. Then she would just take it one step further, saying to the friend, "When you fall in love with your oils and the people around you start asking questions, I want to make it really easy for you to help them get a starter kit, so here's that link." She also shows the friend where the link builder is in Member Resources, in case they ever lose the link she gave them. Annie adds that, "It's not 'If you ever have questions, let me know.' It's: 'When your mom wants a kit, I want you to be prepared.'"
Show them the "full menu:"
Joanne said: "A lot of us, if we bring a friend to a restaurant, show them the appetizers, main course, and drinks on the menu, but we don't cover the dessert menu because we're on a diet or something. But show the dessert. When you're telling people about Young Living, tell them about the oils, the supplements, NingXia Red, the skin care products, and the commission plan."
Tip #3: To grow your cold market and meet new people:
Get outside your comfort zone:
Meeting new people may be your thing, but it might not. Either way, look at yourself as a whole person. Want to know what we mean by "whole person"? Read on.
Lindsey said, "It's really important to post, talk, or join or start local clubs about an area of interest that you have that is outside of oils." For her, that's nutrition and real food. "Pull out your notepad," she said, "and write down three things that have nothing to do with oils that you enjoy doing." Then find a community around those interests, she suggests. "It's always like this in this business. It's always about developing new relationships and finding new people."
Joanne always encourages people to join classes. When you meet somebody new at a class, though, don't just pull out your oils and start telling people about them. First, connect with them, build a relationship, become friends. So go to the class early. Don't leave as soon as it's done. And if you're interested in attracting builders, attract people who are entrepreneurs in the making. Go to an investment class; you're bound to connect with people looking for the next opportunity.
Don't start an oils blog . . . per se:
If you're thinking about starting one, or starting an Instagram account around oils when you haven't had any presence on Instagram before, Annie suggested keeping some things in mind:
The people you'll attract to your blog or account are probably already oilers. "They're not your prospects," she said. "End of story."
It's a lot of work. Don't kid yourself that success in social sharing happens overnight.
It's got to be about something other than essential oils.
Use social media but don't get carried away:
Annie said she loves social media but suggests being really careful with how you use it. "It's not a simple thing," she said. "It's still all about the relationships, whether online or in person. When you're on social media, really connect with people. You don't need to talk about oils all the time. Find people you haven't talked to in a while and look at their page. Comment on something on their page if you're genuinely interested in it. Ask them questions about it."
Joanne added that it's good to share your life on social media, ways you've used essential oils, your feelings about going to an event, your thoughts on what you heard at International Grand Convention. That way, people know that you're into oils so that when the time comes for them to choose somebody to use the oils with or enroll, they'll choose you instead of the person who isn't using social media or talking about oils.
Tip #4: To avoid discouragement:
Have a long-term perspective with everything that you're doing:
"Grip it and hold on," suggests Erin, from Knoxville, Tennessee.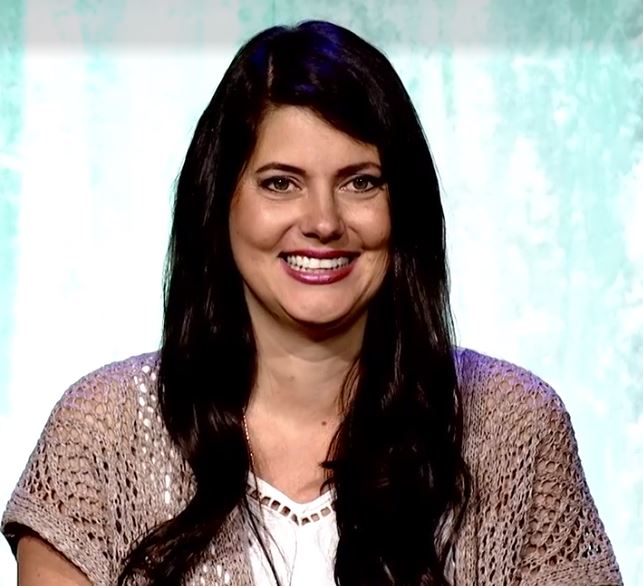 Evaluate what you're doing and your benchmarks for success:
"There were many things that I did early on because other people were doing it," Erin continued, "or it looked like fun or they had a good response, but it wasn't really me." To evaluate, ask yourself what you're really trying to do and the best way to measure success. "If all I'm trying to do is have a community," she said, "I judge that by the amount of laughter in the room."
Annie said you shouldn't feel like you have to know, do, or create all the things. "We have amazing resources. Virtual Office is amazing. Show people where to find the information because it is all there for them."
Joanne said: "I made the mistake of being the expert. It's super unduplicable because then everybody thinks that they need to be an expert in order to share. They would ask me questions and I would immediately have an answer. That means they ended up not finding the answers for themselves, so it didn't actually grow. You can't build yourself to Diamond. You have to have people who are doing it with you. If you're an expert, you're going to end up doing everything yourself, and you're going to burn out."
Be okay with the journey:
"In the end," said Lindsey, "just know that it's your own journey, and there's no one way to do it. Every path to success is littered with massive failures and tiny mistakes."
Realize it's probably you . . . and that's okay:
"Every time I've been stuck or discouraged, I've looked for something or someone to blame," said Erin. "I think, 'It's my upline. They're not paying enough attention to me. They're just doing their own thing.' Or I think, 'It's my downline. They're not working hard enough for me.' I can tell you, though, that every time you're stuck, it's you. It's your fault." But that's not a bad thing.
That means, in fact, that as soon as you realize that it has something to do with you, there's some kind of personal journey you can go on to find the way out of it. "If you can't self-reflect, look back, and figure it out, you will stay stuck," Erin noted.
Joanne reported that self-assessment and forgiveness is "gigantic" for her. "We have to forgive ourselves for the things that we thought were right but actually didn't work. But when we forgive ourselves, a lot of times, the answers just come."
Lindsey said: "I've always heard that this business is the best kind of therapy. It really is, because anything that you've got going on will be magnified back to you a million-fold through this business. You might start to realize that you don't like people or that you really don't know how to be kind to people. These are the things that are going to come up because as you grow, you might realize that you're telling a lot of people what to do, instead of trying to figure out what they want to do. You might realize you're pushing your vision on them, instead of figuring out what their vision is.
"Honestly, this business is really about showing people what you're doing and not telling them what to do. If you're trying to grow a room full of entrepreneurs, I'm telling you that those people don't want to hear what to do at all. Ask a lot of questions and really listen to their answers."
Tip #5: To empower your people or feel empowered yourself:
Erin pairs cross-line people together who are in similar grooves so that they have someone to ask questions of, talk to, and run with. If you're having trouble finding people to run with, go to your upline and ask them to help you find some other really awesome people on the team who are in the same groove as you.
 Tip #6: To handle objections:
Avoid objections by asking people a lot of questions:
Ask about their needs, truly listen to their responses, and be confident that the YL starter kit will help them.
Don't be a "salesperson:"
"If you think you're a salesperson," said Lindsey, "then you become a caricature, complete with a hat. Then all of a sudden, these weird sleezy things come out of your mouth that make people feel icky and that would have made you feel icky had someone said that to you. Talk to the person as if they were your best friend or your sister. If you're writing out a post, when you're done, read it and ask yourself if you would have said that to your bestie or if you're just writing it to sell something."
Take the opportunity to self-reflect:
Annie said: "I think that objections are more moments for self-reflection because you'll hear different ones along the way: 'That seems really expensive.' 'That seems really complicated.' 'I just don't know if I would use that.' All of those are an opportunity for you to rewind the tape and listen to what you said. If you were sharing the kit with them and all you did was talk about how you used it and not talk about their problems and when they could use specific products to help with them, you're less likely to hear, 'I just don't know that I would use it.'
"If you're getting the same objection all the time, it's you. But that's not a bad thing. You can change all of that. In fact, it's an opportunity because if you've failed to place value, you go back to them and say, "Hey, I think I totally missed the mark. I've been telling you how I use the oils. I've been watching you, though, and I think you're going to love Lavender because I read that you were stressed. Sorry I made that so complicated."
Don't take objections personally:
People not wanting to get involved with Young Living at a certain time doesn't necessarily mean that they don't want you as a friend.
Tip #7: To stay motivated:
"When I see people rank up," said Joanne, "it's priceless. When their faces change and you see in their eyes that they feel anything is possible, that's priceless. That is the best thing we can do for friends. That's what motivates me."
These tips shared by experienced, successful members are not only helpful for becoming a stronger Young Living business builder, but also for discovering personal growth.
What are your tips for success? Let us know in the comments below!
You can watch (or rewatch) the whole presentation here:
Feel free to share! If you copy and paste whole posts to your member blog, please attribute and link back to the original post on dgaryyoung.com.